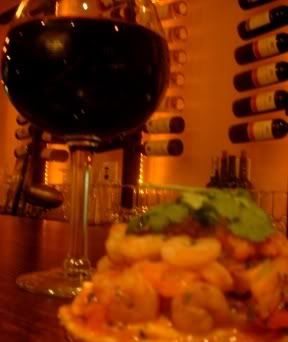 I always see Cafecito Bogota out the window of my beloved B61 on the way to work, but I had never been until this past weekend.  I am fairly inexperienced with the arepa, but have eaten one from Caracas in Manhattan (thanks Charlie).  I knew that Cafecito Bogota was slightly different in style, where the arepa was stacked with toppings rather than stuffed with them.  The stacked arepa from my research is a Columbian dish, where as the stuffed arepa is Venezuelan.
As for as the interior of Cafecito Bogota goes it was really pleasant.  Nice staff, comfortable decor, a long bar, and a DJ stand in the front of the restaurant (no DJ was playing while we were there). I really didn't expect the Cure to be playing in the Colombian restaurant, but I'm not complaining.
The wine list is pretty extensive, and really reasonably priced ($6-$7 for most glasses)…and if you are into South American beers they have quite the variety.
The experience up until the food was really enjoyable, and while the food wasn't bad I can't say that it knocked my socks off.
We ordered two arepas: Caleña (marinated shrimp and plantain) and I think the Medellina (beans, plantains, cheese).   I guess the food was true to style: toppings piled high on the arepa (and there were alot of toppings) to be eaten with a fork and knife, but in the end it left me wanting something.
Cafecito Bogota's website says:
we'll continue to strive for our already well-known HIGH QUALITY food by using the finest, freshest, organic- when- possible ingredients along with the best, most prompt service.
And their menu states something very similar.  To my disappointment the food was pretty bland, and I was very surprised being that it was a South American cuisine (which I tend to think of as very flavorful).  I typically don't order shirmp, but on this occasion it sounded good…but I was surprised to get what seemed like frozen miniature shirmps mixeed into my arepa topping.  Although they didn't have a whole lot of flavor they sure did leave me with some killer breath.
On the table there was a salt and pepper shaker, but those were the only condiments.  I must say that the salt and pepper was necessary, and I would have asked for hot sauce but I'm not sure if that would have been innapropriate (not being familiar with the style of food).
I can say that the arepas will fill you up, and if you are on a budget their recession menu is a good deal.
I did a little research when I got home on the difference between the two styles of arepas, and was suprised when I found out that Columbians typically don't make their food spicy.  But my question is:  Is it appropriate to ask for hot sauce at a Columbian restaurant?
I'm not ready to write off Cafecito Bogota just yet.  I would like to go back to try some of their delicious sounding sandwiches (which I have read are wonderful), but I think next time I try arepas I'll head toward Caracas to try the stuffed variety.
Cafecito Bogota
1015 Manhattan Ave
(between Green St & Huron St)
Brooklyn, NY 11222
Caleña arepa photo from the Cafecito Bogota Blog.