Last Friday I received a call from Permanent Records.  Marjorie, the owner, was calling to see if I had already found a copy of the Australian/New Zealand tour split 7″ that Grouper had done with Pumice (again a super limited record.  500 copies on Soft Abuse.  You might be able to buy one mail order here).  I had not, and she held a copy for me until I could make it there after I got off work.  The couple copies that the store received were gone by the end of the day. Thanks Marjorie!
I feel a little bad because I haven't been up to this store quite as much as I would like to in recent weeks.  They are always friendly, and extremely good to their regular customers.  I get calls when ever they get a rare record that they think I might be looking for, and it is typically my normal stop for new releases.
My old routine used to be Greenpoint Coffee House (I haven't been there in a while either) and then Permanent on Saturday mornings…but I realize that this has kinda stopped since Steph stopped working at the record shop (this is not a direct correlation, but what it comes down to is…We miss you Steph!).  Maybe I need a new routine… Wednesday afternoons…new releases at Permanent and then a growler of beer?
Permanent is just about the only record store in New York City that will special order records for you, and I think I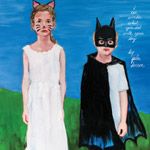 need to give them a call today.  I can't find a copy of that new Julie Doiron album I Can Wonder What You Did With Your Day anywhere.
Here is a track from the Julie Doiron album I'm looking for:
[mp3] Julie Doiron- "Consolation Prize" (Buy the album here)

Permanent Records is located at
181 Franklin St
(between Green St & Huron St)
Greenpoint, Brooklyn
(718) 383-4083
I previously wrote about Permanent Records here, and Greenpoint Coffee House here.