Beer in cans. Some people think that cans are  just for big name light yellow American beers, but these days that isn't the case. There are several breweries that have embraced beer in cans, and one of the best is Oskar Blues out of Lyons, Colorado.  Oskar Blues is best known for their supper hoppy pale ale (almost an IPA) known simply as Dale's Pale Ale…but this wonderful Colorado brewery can do much more than a really awesome pale ale.  Last night I had two encounters with Oskar Blues Brewery one in Williamsburg (technically Greenpoint) and one in Bushwick.  It's not too hard to find their beers in NYC, but just because they are in a can doesn't mean that they are cheap.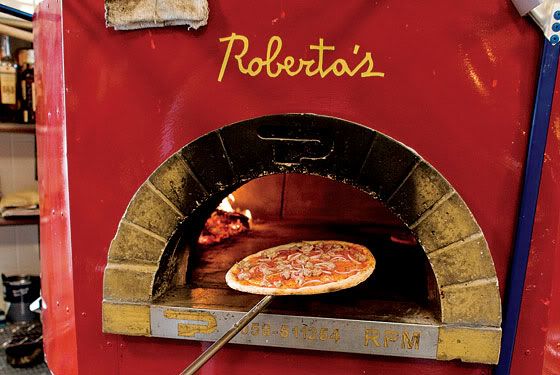 My first beer encounter last night happened at Roberta's Pizza.  klk and I have been meaning to try out Roberta's for quite a while, and last night it finally happened.  Roberta's was delightful, although a little hot due to the temperature outside and the pizza oven.
We tried a meat plate (three different Italian meats, and bread), watermelon salad (watermelon, basil, olive oil, and goat cheese), and a Green and White Pizza (mozzarella, arugula, parmigiano reggiano, and lemon olive oil dressing)…all delicious, and we left as full as could be.  This place is right up there with Fornino, and a little less greasy too (or at least my stomach thought so).
While their food and drinks were pretty standard priced
for Williamsburg (even though the place is in Bushwick) they did have Oskar Blues Gordan…the 8.7% abv Double IPA that is super hoppy, and a little bit sweet for only $6 a can.  This is a beer that is typically $4-$6 in stores.  It was a nice accompaniment to our wonderful Italian fest.  I highly recommend Roberta's!  I can't wait to go back once it cools down a bit, and enjoy their patio.
Roberta's Pizza
261 moore st
Bushwick, Brooklyn
The second beer stop was at Anthony & Son Italian Deli on Grand Street at Frost.  This is a deli that I typically go to for good pasta (to make at home), and occasionally for an Italian sandwich.  When I was there a week ago there was a big stack of Oskar Blues Old Chub, the 8% abv Scottish Ale.  Old Chub has a nice sweet caramel body with a little  hop bitterness,  hints of smokey malt, and a bit reminiscent of whiskey.  Typically a six pack of Old Chub runs in stores anywhere from $9-$12, but for some reason there is a big stack of it as soon as you walk in to Anthony & Son's that has a sign on it: "Special: $5 a Six Pack."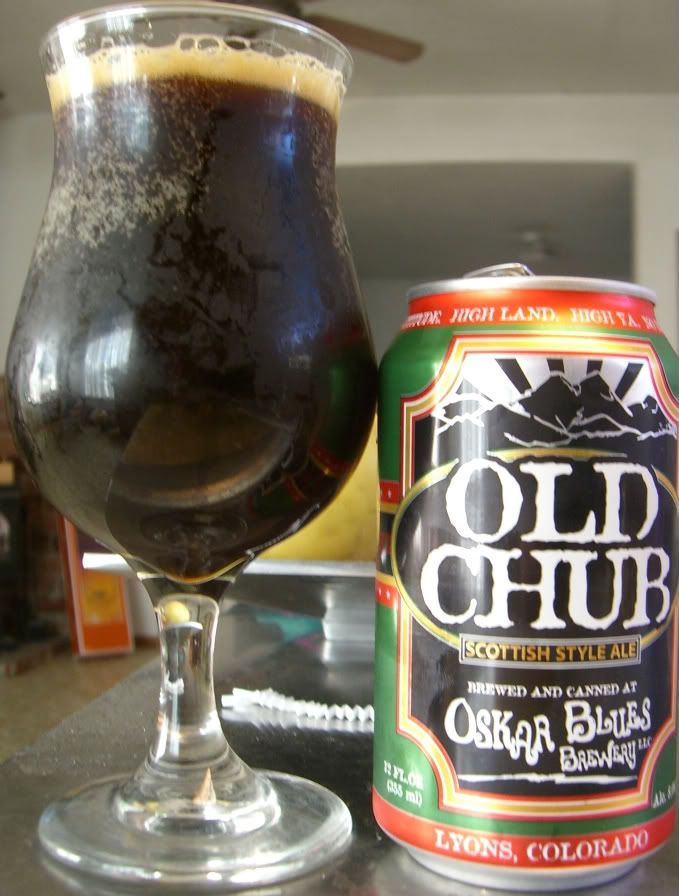 Some people might be skeptical of a beer sale in fear that the beer might be bad, but if you are in Williamsburg/Greenpoint and like a good Scottish Ale, or would even be interested in trying one I will assure you that this beer is good, and ready to drink.  At 8% abv this beer is strong enough to be aged, and since it is in a can you don't have to worry about the sun/light messing up the taste of the hops like it would in a bottle.  I'm guessing that this was an ordering mistake…but the savings are passed on to us, the consumer, and I bought two cases last night.  They still have 7 or 8 cases left so go down and pick up a six pack or eight.  This is the best beer deal I have ever seen in NYC, and it is on a beer I love.  Take advantage of it…I already got my fair share.
Anthony & Son Italian Deli
433 Graham Ave.
Williamsburg (or Greenpoint?)
Brooklyn
I know that this post was about beer mainly, but I really do encourage you to try Roberta's Pizza…I'm still thinking about it today, and wish I was eating their wonderful food for lunch right now.
Photo Credits:
Roberta's Pizza photo by Noah Kalina via NYMAG.com
Oskar Blues photos via BrewForThought.com
Although I haven't done a What Ales You in a while this could be considered one.